Filecoin (FIL)
Filecoin is regarded as an innovative project in the cryptocurrency industry, after the mainnet launch on 14th October and after developers worked hard on this project for three years.
The project was initially launched in August 2017 where it managed to raise $257 million within 30 minutes making it one of the biggest ICO sof 2017. Filecoin wants to provide decentralized file storage facilities which also have built-in economic incentives for the users. It tends to disrupt the monopoly of centralized web servers and storage providers. After the main net release, many prominent exchanges showed their support by announcing trading and custody support.
So, will Filecoin meet up to the expectations of its investors and blockchain supports? To answer this, we have prepared a thorough Filecoin review where we take a deep dive into the potential and roadmap of this project.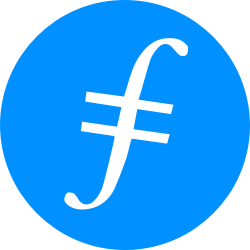 Filecoin
(FIL)

Price
Market Cap
What is Filecoin?
Filecoin is a P2P (peer-to-peer) network that provides web services like file storage to users; it has also built a system to pay the miners incentives for committing and storing the files safely.
Now you may wonder what the payout structure is? Users need to pay the storage miners to store their files on the server. The storage miners are nothing other than computers which have the responsibility to store all the files, and the network verifies them if they have stored the files correctly over time.
Anyone irrespective of their location who wishes to store their files on the web needs to pay the storage miners for storing their files. They need to pay them back when a user wishes to retrieve their files.
If you want to make money with this system, then you need to store other users' files. Please check this guide to become a storage miner.
The thing which makes it stand out from all the centralized web storage service providers is their pricing model. As the price of the storage isn't determined by any company, but by the people themselves who participated in storing and retrieving files.
What does Filecoin do?
Filecoin has a blockchain, and the incentives are paid through its native cryptocurrency FIL. Storage miners earn FIL for storing files. The blockchain of FIL helps to record the transactions to send and receive FIL along with the proof that the storage miners are storing the files correctly.
The project is the brainchild of Protocol Labs and its founder Juan Benet. They are the same people who developed the Interplanetary File System (IPFS), and the Filecoin blockchain uses the same technology.
There is a rise in need of the cloud storage as data is being produced at a significant rate. This results in a need of decentralized technology to store data on cloud servers and the data will be stored on the blockchain. It will not only be distributed, it will also have the maximum security meaning that no one can hack into the data saved on the blockchain, neither tamper it as it works on Proof-of-Storage, so it will be immediately verifiable by anyone.
Now, as we have a bit of clear idea on what Filecoin is, let's dive a bit deeper into its technology and its needs in this Filecoin review.
Is there a need for Decentralized Storage?
So, after understanding what Filecoin is, the first question which arises to our minds is whether we need decentralized storage or is it one of the other projects which are here just to milk out on the trending technology?
Many blockchain projects do have real use cases and can change the way things are happening right now. Yet, cloud storage hasn't received as much attention as they deserve.
One of the main reasons is that we don't understand at what rate data is being produced every day. In short, everyday cumulatively we produce a bit more than 2.5 quintillion bytes of data and we soon we won't have enough physical devices to store them, so we surely are needing the facility of cloud storage to store our respective data, and the decentralized storage has far more benefits over centralized storage services. We tried to list down some of the benefits, but the benefits aren't only limited to these.
Safe Data Storage
Our data is private, and no one wants their sensitive information to be hacked and leaked as it can cause a lot of trouble. The one company that is quite confident about their security has been compromised several times – iCloud. Even Dropbox and Google are vulnerable to hacks and have been compromised a lot of times before too. Mainly due to user errors.
So, the best way to store data without worrying about getting hacked is by storing it on a decentralized blockchain network like Filecoin, as it breaks the data into smaller chunks and stores them into multiple nodes. Not even the best hackers would be able to decrypt it and only the person who holds the private key can assemble their data and view the data in whole.
Lowering the costs for storing
Centralized cloud storage companies charge a hefty amount for storing data because they need to maintain their servers, pay for the infrastructure and maintenance of their network. In contrast, decentralized cloud storage doesn't have to worry much about them as they don't have the running costs, neither need to spend on the infrastructure as everyone connected to the Filecoin network is somehow contributing to the blockchain.
Efficient usage of the Data Centers
There are a lot of physical drives, data centers which are lying in basements with no practical use. Now with Filecoin, the storage drives that was collecting dust can be used for the benefit of others while the owner earns an incentive.
Technology behind Filecoin
Filecoin was one of the first blockchain projects built on the concept of (DSN) Decentralized Storage Network. A DSN is a cloud data storage scheme that has independent storage nodes and clients.
The DSN aggregates storage space that is being offered by the independent node operators connected to the Filecoin blockchain network and dividing the data into small chunks. Coordinating the storage for storing and retrieval of the data making them impenetrable in the process. The process of aggregating and coordinating is decentralized, which removes the third parties from the picture while increasing the security of the protocols which conform operations and verify the data storage and retrieval.
Team of Filecoin
While most of the blockchain projects are founded by an individual or a group of individuals, it was founded by a U.S. company called Protocol Labs. Protocol Labs was incorporated in 2014 by Juan Benet and was involved in creating foundational internet infrastructure technology long before it thought of creating Filecoin.
One of the most famous creations by Protocol Labs is IPFS (Interplanetary File System) that was created in hope to replace HTTP (HyperText Transfer Protocol). The company is still researching, developing and deploying network protocols. Along with it, they have also developed libp2p, which is also an open-source project.
Another project in their list is CoinList a platform for investment and sales of cryptocurrencies. Their creations and developments have always been open source and transparently with a view that would create value and to enable a way for others to contribute to their projects.
Filecoin ICO (Initial Coin Offering)
ICO stands for Initial Coin Offering and it's almost the same as IPO (Initial Public Offering) which is observed for shares of companies.
In the case of Filecoins' crowdfunding, it created history as it was one of the highest-grossing ICO's where they managed to collect an enormous amount of $257 million. The fact is that it was only open in the United States for investors having over $1 million in capital or an income of more than $200,000 per year.
This was done to meet all the regulatory requirements to make their ICO sale accessible in the United States. At the same time, it was indeed bad for the blockchain enthusiasts and smaller investors who lost the chance to grab the opportunity at the initial stages of this coin.
The other thing that created a rage among the blockchain community was its pre-sale where Protocol Labs offered tokens only to hedge funds and other large investors for less than half the price which it was listed for the public token sale.
Some of the prominent investors that participated in the presale were Sequoia Capital, Andreessen Horowitz and Union Square Ventures.
Roadmap
Their detailed roadmap was released in 2017 before they announced their crowd sale. Yet, they didn't provide significant updates until they announced to launch their testnet in December 2019. After the announcement of the testnet they also released a Gantt chart (Gantt chart is a bar chart that shows the progress of the project as well as the schedule of the events that are going to take place in the future along with timelines) which is updated in real-time.
Their last roadmap update was in August 2020 where they announced that they would release their mainnet in September 2020. Whereas it got delayed by a month and was finally released in October. There haven't been any significant updates until now.
You can access their last August 2020 roadmap update from here: Filecoin Roadmap Update August 2020.
In case you wanted to keep yourself updated with the latest development happening in and around Filecoin, there are several social media channels where you can follow them.
You can follow them on their on Twitter. More formal communications and news will be updated on their Blog.
Final Words
As discussed above, file storage will indeed be one of the most valuable services being offered in the future. Which makes it an excellent use case for blockchain as with the development, security and privacy both are becoming myths of the new technological era. It might not be getting the limelight it should be getting considering the future opportunities, but it is an excellent utilization of blockchain.
Considering the competition in the cloud storage space, it doesn't have many competitors apart from Sia and Storj, some of the cryptocurrencies that have been in circulation before Filecoin (FIL) was announced. Yet, it has some points of disparity from them which made it create the history in 2017, by being able to collect the biggest crowdfunding of 2017. However with the positive reviews after the mainnet it seems their hard work over the past two years have shown colors, as they already have few working projects. The projects are not related to blockchain, but can be considered as they are also created to make changes to the internet infrastructure in a positive way.
Further, the high profile venture capitalists that are backing up the project and invested in it, as they see a potential future for this tech, should give the credit to Filecoin which they long deserve. Although with every positive aspect there are few negative ones too, like the scalability, marketability, adoption as it would be quite difficult for people to move on to this project. They are already using centralized projects like Google Drive with tons of data saved there which would make it quite difficult for the people to switch to Filecoin.
Though they have already launched their mainnet and are already in a better position after they proved their project as a working one rather than just another crypto scam. Nobody knows what the future holds for them, until then this could a sure shot golden project to keep your eyes on.